Snackpass, which received an early investment from Dorm Room Fund, gobbled up $70 million at a $400 million valuation. The delivery company has reached over 500,000 users and raised $92 million. The social takeout app enables users to order ahead, get discounts, and connect with friends while driving repeated business to restaurants. In an interview edited for clarity, CEO Tan and COO Marshall share their entrepreneurial journeys.
How did you meet as co-founders?
Jamie: We were both at Yale at the time. I was doing some research at Yale over the summer and saw this flyer. It said, "Get discounts with your friends at my favorite smoothie place." I've always been a huge fan of ordering ahead, saving time, and I knew I was interested in entrepreneurship, so I couldn't help but reach out. I did a little research and found out it was another Yale student working on this. I Facebook messaged Kevin, and said, "Hey, I would love to help you in any way. Super passionate about this and would love to collaborate." Kevin answered, and we met up at Book Trader Cafe at Yale and hit it off. We brainstormed tons of ideas and continued on from there.
Kevin: The intention was to try to make Snackpass as big as possible; we were looking to have it blow up the way Facebook and Tinder did, starting on campuses and growing from there. I had always been super interested in building startups ever since I was exposed to software and code through some of my roommates.
How did you think about pursuing a startup full time?
Jamie: I was a neuroscience major, on the pre-med track, and took one or two computer science classes, but I ended up leaving around the fall of my junior year to build Snackpass. Startups have always been on my mind. Classes definitely took a backseat. We like to say that the restaurant is our office. Kevin would code at different restaurants and I would run operations from the next table over. I don't know if there was quite a good balance with school, but we worked on Snackpass as much as possible.
Kevin: I started Snackpass during my last couple of months at Yale, right before finals. The way the backend was hooked up back then was pretty janky. One day, I went into an exam, and I got a call from a restaurant owner that someone placed an order that didn't go through. I left and dealt with that bug. To Jamie's point, it's hard to run a full-fledged business while in school.
I finished school so I'm ineligible for the Thiel Fellowship, unfortunately. It would be cool to say I dropped out and became a Thiel fellow like Jamie, but Asian parents can be path oriented. Although nowadays, tech is a tried-and-true path. Growing up, I didn't know anything about coding. It was all about becoming a doctor or an engineer. My dad's a political science professor though, so he can't support that narrow definition of success. Fortunately, my parents were open minded, and I have to thank them for being supportive.
Describe your startup experience before Snackpass.
Kevin: Maybe people are more educated these days about startups, but I didn't know anything about them at the time. DRF, First Round Capital, and Y Combinator created a great bootstrapping experience where you get everything downloaded in a short amount of time. It has to be short because speed is everything in startups.
How did you tell if Snackpass was working?
Kevin: We had a Slack channel that would show every time there was a purchase, and it was always a trickle. Then we launched it in the fall of 2016 with some of the core components of Snackpass as we know today – the focus on pickup, social rewards and discounts. Students started coming back on campus, it accelerated and the Slack channel was blowing up. At some point, we had to mute the Slack channel because it was too much activity. But that was an amazing moment.
Jamie: A lot of people at the time thought this was a Yale thing, and that we had home turf advantage. But we were able to prove people wrong and launch our second campus at Brown University. We were able to achieve that same success, and that was another big moment.
How did you acquire customers?
Kevin: The first customer was my roommate, and I told him to do it. The first 100 were through flyers we put up on campus and handed it out to people walking around. Got to 100 pretty quickly.
Jamie: One thing we love about Snackpass is that we get to use it every day. We can build the product for ourselves and what our friends love. We were living at Yale at the time and got our friends on it. We were constantly in user interviews by default, which was really helpful.
How has Snackpass changed since you first started with the idea?
Kevin: When we started at the beginning, it was not a fully-fledged platform. It was a website, not an app, and a place where you could get discounts by logging in with your yale.edu email. The idea was that it was something we did all the time and it'd be awesome if there was a place where you could see all the options together. On the merchant side, I knew some of the restaurant owners in the area and was good friends with the owners of Brick Oven Pizza. I was able to sign them up by talking to them.
But there are two critical insights from those early days. The first was that people would come for the discounts, but they would stay for the convenience of ordering ahead, not standing in line, not having to wait to swipe your credit card, and ordering asynchronously. We realized early on that it's a technology shift in the space for the in-store customer front end, which shifts from the register and cashier to mobile. That would be the future. The second insight was the transition from single to multiplayer buy. In the early days, it was growing linearly. That'd be kind of the customer acquisition strategy, but it wasn't blowing up quite the way I imagined Facebook, Tinder, or Snapchat did on campuses. We didn't have any funding, not even from Dorm Room Fund, to spend on paid ads or customer acquisition. So we had to figure out if there was a way to tap into that virality without paying for referrals. There was that question of, "Can we combine the virality of social networks with what we're doing, which is buying food, and can we have reward points at the time, inspired by the Starbucks app where you can get points for yourself after every purchase?" Then it hit us like, "What if you don't just get points for yourself, but you get to send points to friends?"
The last piece of that puzzle was the merchant side. We talked to a bunch of merchants and realized this was an organic marketing tool that would be much more cost effective than a paid ad on a delivery platform. We leaned in on discounts and rewards that you would get with your friends. When we packaged that together with pickup and skipping lines, it quickly blew up. That's been the consumer value proposition and product ever since.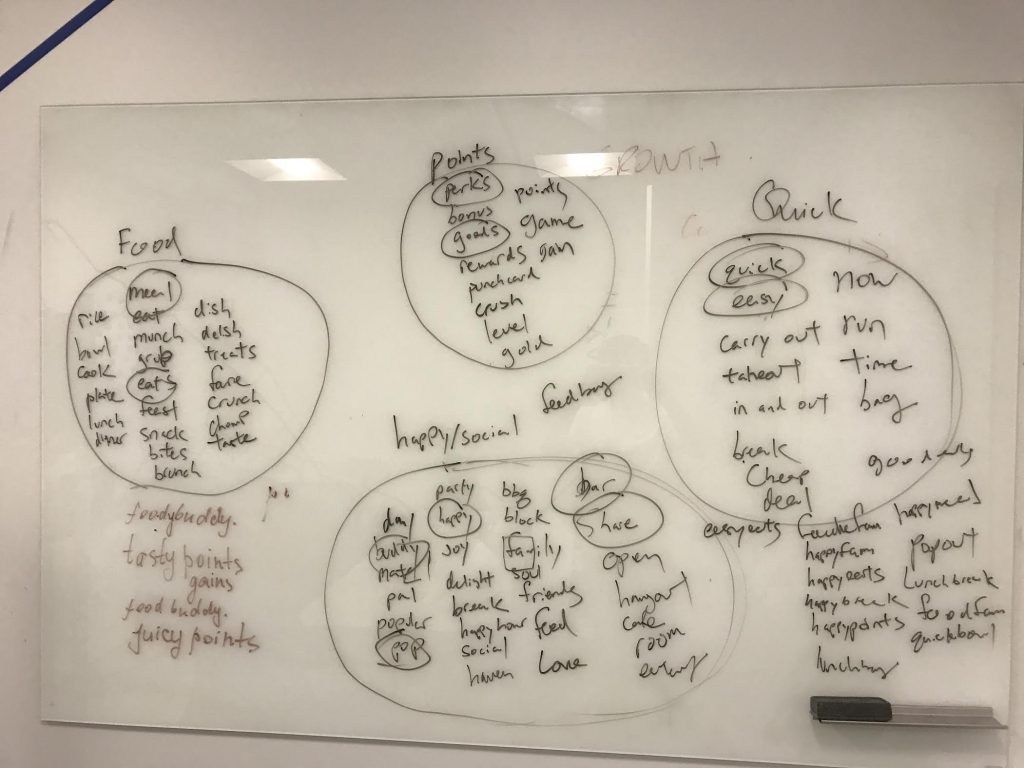 Why the name "Snackpass"?
Kevin: One of the best attributes of Snackpass is the name. It used to be called Happy Hour, and that was a terrible name. You'd search it in the app store and there'd be like 50 other happy hour apps. There wasn't the consumption of SEO or anything like that.
We did this huge word map on a whiteboard where there's all these semantics and bubbles, with ideas like "skipping the line," "saving money," and "food." The word "pass" was super interesting because it's like "pass the line" and "VIP pass." But the other part was tricky because everything sounded super lame like food, meal, and grub.
When we heard "snack," it didn't sound right at the time. It was more like wait, could that work? And then you chew on it. Then you're like wait a second, that sounds nice.
How did you hear about Dorm Room Fund?
Kevin: They were on Yale's campus. We actually applied and got rejected the first time. Six months later, we applied again and got in. Besides a tiny loan from my brother, our first investment was Dorm Room Fund, and it meant a lot.
Jamie: We saved the money from DRF and used it to launch Snackpass on Brown, our second campus. DRF was crucial in helping us continue at Yale and then get going at our second campus, which was really when we started seeing a lot of traction too. Even now, we try and talk with the partners on campuses and get so many connections.
How did COVID-19 affect operations, and what will you do with the Series B funding?
Kevin: The pandemic was a huge curveball for the company because we were focused on college campuses. To that end, in the news, people were like, "Will college campuses exist after COVID?"
The second is that Snackpass creates a unique experience where you're going out of your house. That was something people didn't do at the height of the pandemic. There were a few months where it looked really shaky. But then over time, it helped us answer one of the biggest questions: How can we deliver a truly differentiated product for restaurants and solve their biggest pain points?
We focused on things like helping them save money on labor, understanding their customers more, and engaging them in a way that was much more universal than bringing in more students. For the company, the pandemic forced us to expand bigger and look deeper at the restaurant customer. It was definitely very scary, but it ultimately put us in a stronger position.
For the other part of Series B, we saw 7x year over year growth from last April. A lot was fueled by people coming back but also being a core part of the restaurant's customer-front end, with every in-store customer using Snackpass, whether that's kiosk or ordering. We saw a lot of growth and a signal that it was the right time to raise this round and expand to new markets.
Jamie: We'll be flying around visiting all the different hubs, but we are getting ready to launch in New York. So we'll be there spending some time to make sure we're having a big launch.
Interested in joining Snackpass? Check out their new roles here.
---
Written by DRF head of content, Anne Wen. Reach her at annewen@dormroomfund.com. More updates on Twitter, Medium, and newsletter. Founders, apply for an investment from us. 🚀