Alec Zorrilla is a rising second-year at the University of Miami pursuing dual B.B.A./M.S. degrees in Business Analytics and Economics. He's part of the 2021 Blueprint Investor Track. You can reach him at aleczorrilla@miami.edu or on Twitter at AlecZorrilla.
You went vegan in high school. How?
I like learning about different things, but I like doing it for a reason. I started the vegan idea by watching a documentary on Netflix called "Game Changers." They painted veganism as plant based diets, which was more digestible than saying "save the planet."
When I mentioned that in my classes, my classmates asked why I would do that. I found out about this national research competition, and one of the divisions that you could submit research was in nutrition. Originally, the project only required I go vegan for one month. I got bloodwork done before and after. I was tracking my workouts working with coaches, doctors, and personal trainers. And through the experience, I felt so much healthier, my vitamin B-12 doubled, my cholesterol dropped, and I wound up staying vegan for a year.
Unfortunately, I had to take a break because you don't have a kitchen in a college dorm. But my number one takeaway from that experience was understanding that it's okay to have different ideas and pursue them. There's a lot of times in sports, especially for football in Texas, where it's like "this is the way to do it." For example, the emphasis on getting your protein through meat. The fact that I found out I could do it with a plant based diet made me question other things, and that's definitely something that I've carried with me into college. Through that experience, I developed more comfort in being uncomfortable.
Tell us about your interest in Latin America.
My mom's from Ecuador, and my dad's from Colombia. With Blueprint, it's been really interesting because the people involved in the organization mentioned some of the funds that they've worked with, or some of the podcasts that they're interested in, that aren't just the general VC. They're targeted towards Africa or Latin American innovation and development. To see that the members of this community are not only interested but involved in spaces I didn't even know were as developed excites me.
I always thought that the only way to do Latin America focused finance was through LATAM banking. But to hear that a lot of these funds are focusing on start-ups, that's really exciting. I think the cultural tie gives you another reason to feel attached to your work, which is important, especially in the VC space, where the business model is valued as much as the people.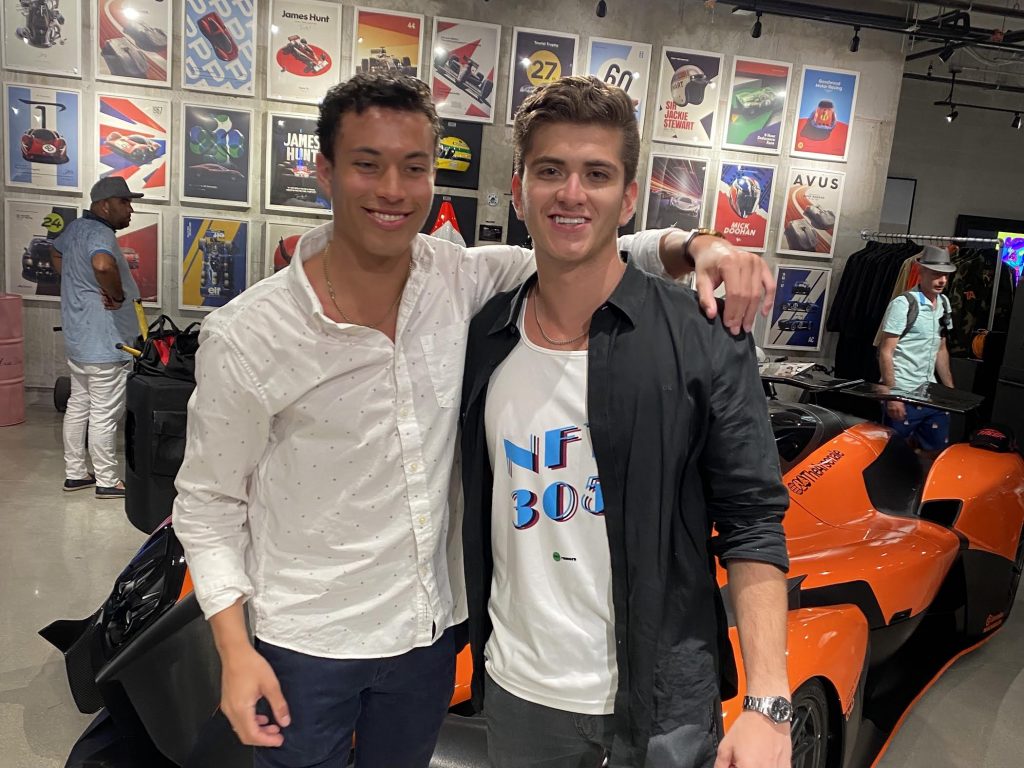 Why a business degree?
I knew I wanted to be a business major. Admittedly, I was going through my senior year during COVID. Sitting at home, there were moments like I should be a pilot or a doctor, but at the end of the day, I knew business was where I wanted to go. I came in as a finance major, probably in part because it's so popular with athletes. Once I got to college, I realized that the world is so much bigger than just finance. That's why I transitioned into business analytics and economics. For a three plus one program, I'm gonna be a business undergraduate for three years and get a master's in business analytics in one year. Whether I work in IB, consulting or VC, I need to be well rounded.
Tell us about your background in finance.
I was born and raised in Texas and grew up a football player. Originally, I was gonna play quarterback at the collegiate level but ultimately decided that I wanted to focus on academics. I came to Miami as a finance major, not really knowing what that meant.
The more that I did bank diversity programs, the more I learned that everybody's going on this path of two years on the sell side, then you jump over to the buy side into VC or private equity. I started thinking that if that's the path everybody's on, why wait four or five years to get over to the side that I want to go to, if I can do it now? Some friends mentioned the Blueprint Investor Track to me, and seeing the names involved in the program excited me.
I went ahead and submitted an application, knowing that I was under qualified. As an 18 year old, I could do as much as I wanted in my first year of college, but nothing trumps experience. So I was very happy to find out that I got in. I found it so useful and fascinating, not only because you get to learn so much about these industries from the people that are working it, but it's also the community you're around. For example, we are working on this summer long group project where we're developing an investment thesis. And the members of my team are all graduate students and much older than me. It's not something that necessarily intimidates me, but it excites me that I have so much I can learn from them. The fact that being a part of this program means that they're more than willing to not only talk to me, but work with me, and to get to work alongside people of this caliber, has been a really great experience so far.
---
Get more news and updates on Twitter and Medium. Want more DRF content or have suggestions? Subscribe to our newsletter or email our head of content at annewen@dormroomfund.com. Ready to take your startup to the next level? Apply here for an investment from Dorm Room Fund. Until next time! 🚀