Florence Luna, an MBA student at Cornell University, graduated from the University of Arizona with degrees in business economics and East Asian Studies. She joined the 2021 Blueprint Investor Track, which targets Black, LatinX, and Indigenous communities who want to build fundamental skills to break into venture capital.
Coming from finance, why entrepreneurship and venture capital?
As a first-generation American raised by a single mother, there were many obstacles that I faced on my path to pursuing higher education and building a career in Finance. These experiences helped to guide me academically toward learning how to approach problem-solving and better frame potential solutions through a degree in Business Economics. I also added an East Asian Studies degree after becoming enamored with Chinese history, culture, and language (not to mention the cuisine).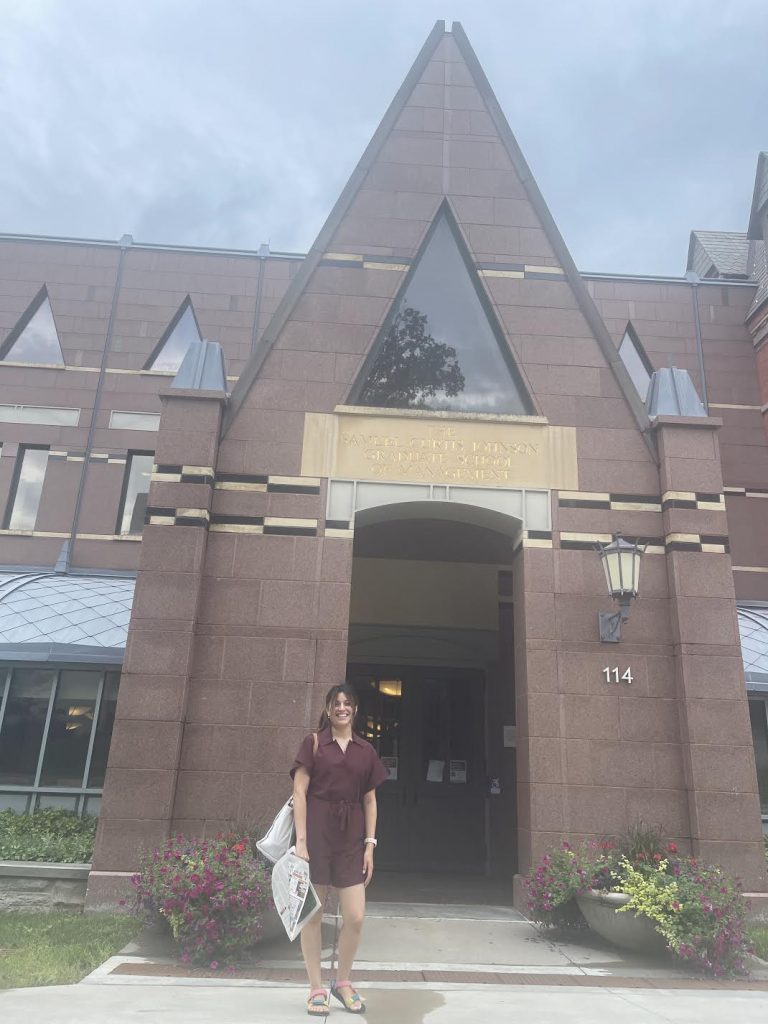 I first heard of Goldman Sachs through an information session in undergrad. I learned the global investment bank places emphasis on teamwork and analytical skills and that really attracted me. After a summer internship, I joined full-time in 2015 where I spent 5 years across three divisions – Operations, Controllers, and Equity Research. One of the more notable accomplishments I had at the firm was leading my team to the finals of the GS Analyst Impact Fund. We presented to the executive committee and secured $25,000 for a nonprofit of our choice: Project Concern International (PCI). The PCI AfriScout project developed partnerships with Google and SAPRM, to retrieve satellite data and up-to-date grazing information with the goal of distributing mobile devices to help disseminate grazing information to pastoralist communities in Tanzania, Ethiopia, and Kenya.
It was through this experience that I realized the potential I had to make an impact using the professional toolkit I had built to date. Uplifting underserved communities has always been at the core of who I am and I set out to explore professions at the intersection of Finance and impact that motivates innovation. The innovation that drives market disruption extends across sectors and includes solutions aimed at problems faced by underserved communities.
My upbringing and identity have informed my drive to enhance the quality of life for those in most need. Venture capital provides a space where I may gain exposure to entrepreneurs driving impact and help to support their endeavors. Learning how to assess investment opportunities through the BIT program and connecting with my impressive BIT cohort that comprises both builders, as well as investors, was an invaluable experience. I am grateful to Molly, Jarrod, Chris and the rest of the DRF team that helped to make this program a reality. We wrapped the program up by developing an investment thesis and presenting it to the cohort as well as VCs. This exposure helped to solidify my passion for the space and I am so excited to continue exploring opportunities to get involved while in b-school!
Why does diversity in venture capital matter to you?
As I traversed my higher education and professional journey, I noticed that people with similar lived experiences around the table were a minority. We know that diversity provides various benefits to any environment, yet there still is a huge gap within VC. It is important to represent the population we are serving, we need to tailor solutions to the diverse needs that exist in our environment. Outside of these benefits, diverse collaboration drives outcomes in terms of profitable exits and fund performance, so it seems like a no-brainer to incorporate diverse individuals onto any team or portfolio.
Most importantly, understanding communities within a market is an important part of selling a product or service. Especially with some of the startups that interest me, I think about the social determinants of consumers. Are they single parenting? What does affordability look like? Do they take a bus? How can we enable this reach for their consideration, even if it's not at the lower income brackets but working class people who are busy? Growing up, I've seen it with my mother, and her trying to juggle raising my four siblings and myself and getting settled in a new country.
I hope to support the redirection of investment into minority and female-founded companies as I believe this representation is beneficial to owners, investors, and customers. Innovation is at the forefront of everything that moves today in our economy. Companies with a social impact component are of great interest to me. There are amazing startups out there creating educational resources for kids that had a very similar makeup as I did and that is creating value that would have benefited me when I most needed it as a child. These ideas are very personal to me, and also very exciting.
---
Written by DRF head of content, Anne Wen. Reach her at annewen@dormroomfund.com. More updates on our Twitter, Medium, and newsletter. Founders, apply for an investment from us. 🚀