Yu Qian Ang, co-founder of Out of the Box in Singapore, knows families in his hometown want high-quality, innovative preschool curriculums.
But options are limited. By the age of five years old, a child's brain is 90% fully developed, he said. A company he previously started with Kloe Ng, now his co-founder again, focused on creative programs inaccessible for many of the kids in Singapore.
"At one point, we served over a thousand children," Yu Qian said.
After stints in the Singapore civil service, private sector and venture capital, Yu Qian landed a master's degree at Cambridge University before pursuing his Ph.D. at the Massachusetts Institute of Technology. At the same time, his long-time friend, Kloe – whom he had met at the National University in Singapore, also moved to MIT for further education.
Together, they seized on an unusual preschool model. In this lightly edited interview, Yu Qian and Kloe share how they built Out of the Box.
How did you start Out of the Box?
Kloe: It started in December 2018 when we got a call from the World Bank for submissions to fulfill any of the bank's development goals, which included education. Yu Qian had an idea about a mobile classroom. Even though it was in the ideation phase, we were chosen to present at the World Bank Youth Summit. By interacting with our audience, we realized that we had stumbled on an idea with significant demand. Still, we noticed that the need for mobile learning differed depending on the development of a country. In some regions, many people lived in small places, so parents appreciated mobile classrooms that wouldn't compromise their children's education but also wouldn't take up half their living rooms.
How did you attract early users?
Kloe: Initially, we relied on word of mouth until a national newspaper, Channel News Asia, gave us wider publicity. Today, we still have people reaching out to us after stumbling upon the newspaper feature.
Yu Qian: The U.S. has been our main market, but we moved to Singapore after our school told us to leave because of COVID-19. At the start, we got friends who had kids to pilot test the hardware. We also had expats who came back to Singapore and were in quarantine, with their kids having nothing to do. They gave feedback and spread the word. Eventually, we got a couple of organizations that wanted to try the product. That timeline lasted from January to April. In May, Techstars contacted us, and we joined the accelerator.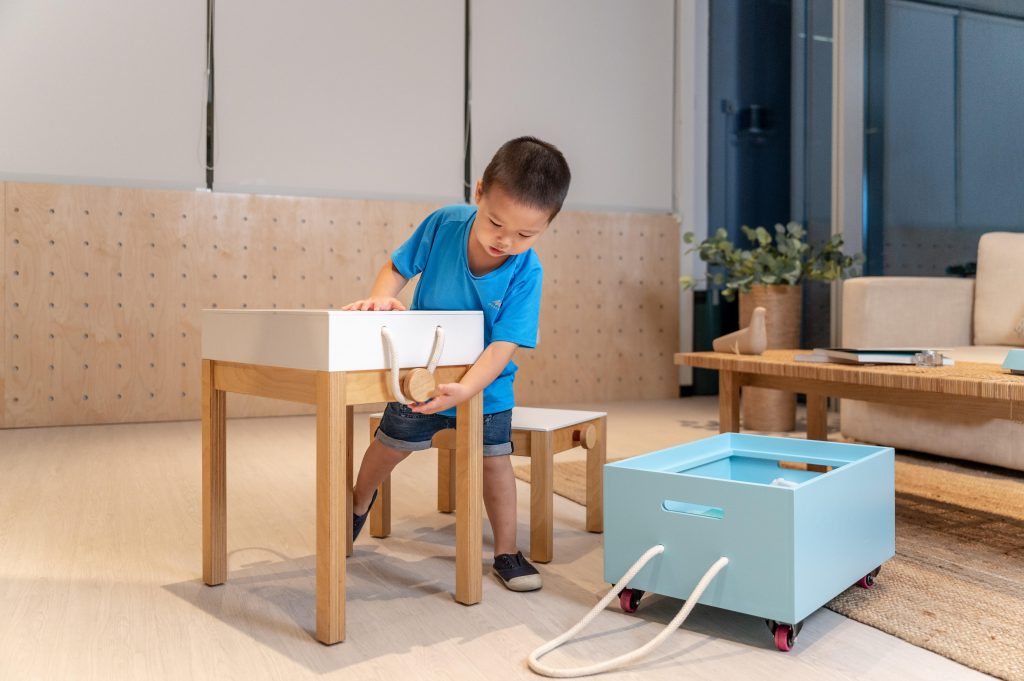 How did you systematically test your product?
Yu Qian: Our product has two components – software and hardware. For the software, we tested for user experience and whether parents knew what they were navigating. On the content front, we wanted to test outcomes for the learning curriculums. We identified core development skills for different age groups and translated them into learning activities. For the hardware, we wanted to test usability and safety. Sometimes, we'll record test sessions with the permission of the parents. We also wanted to observe and fine-tune the way children engage with the product.
How do you iterate on software compared to hardware?
Yu Qian: We revamped our software within six weeks, but hardware has a longer development runway. Kloe and I have no experience with hardware. We started with our vision and objectives and studied similar types of hardware companies for what we should be optimizing.
Even though Kloe and I designed the first iteration of the hardware, we're aware that the manufacturing and fabrication unit has its own requirements, so we get help to translate our designs into components that are feasible for manufacturing.
As a startup, we have to be lean. We can't afford to outsource the entire product development to an agency because that will burn too much cash. For parts that require more detailed technicalities, we try to get support. We also want to de-risk the hardware for investors because many early stage investors shy away from hardware.
Kloe: The software vs. hardware differentiation became obvious when we were talking to investors. As founders, we realized that making a child go through another app was not going to solve learning deficiencies or enhance learning outcomes. I don't think we saw it as a software vs. hardware play. It was an integrated solution.
Yu Qian: We have some investors who would have invested if we dropped the hardware component, but our data-driven surveys have shown that parents are increasingly unwilling to put another subscription on their credit cards. Customer acquisition costs are getting higher, and at the early stage of a child's development, people want less screen time for their kids, which is why we designed something tactile for kids also meant to be scalable.
As two-time founders, what's one piece of advice you wish you received earlier?
Yu Qian: For the co-founding team, you need to be extremely clear and set things straight, especially if you are good friends. Another thing we'd add is that hiring the earliest team is very important. We try to be clear about expectations and the milestones we want to target. As a startup, we are always moving towards the next milestones or funding rounds, so we try to be transparent with the team as well.
Kloe: Trust your own judgment. This comes from a point in the startup world where people come with good intentions. Investors will tell you their judgments, and it'll likely affect you, but it's important to believe in yourself. It's a fine balance: You can listen to too much advice and doubt yourself or shut out what people say and lose the way.
---
Written by DRF head of content, Anne Wen. Reach her at annewen@dormroomfund.com. More updates on our Twitter, Medium, and newsletter. Founders, apply for an investment from us. 🚀