Dorm Room Fund welcomes Candelytics, which makes 3D data more accessible, intelligent, and impactful. Co-founder Bryan Lee, a former Army helicopter pilot, talks about his foray into entrepreneurship and DRF's newest portfolio company. You can reach Lee at bryan@candelytics.io.
Tell us about your team.
I was an active duty army officer and flew helicopters for the Army. I've had several deployments to Afghanistan, Southeast Asia and West Africa for the Ebola outbreak.
My co-founder, James, worked for a firm that designed wireless technology for the intelligence community. Our third co-founder, Clark, was once an active duty army officer. He served as a military intelligence officer and continues as a reserve officer with the Army's Futures Command.
In addition to being former and current graduate students between Harvard and MIT, I knew James and Clark individually. Over the summer of COVID, we realized we were applying to the Defense Innovation Accelerator separately. Since there was mutual interest and complementary skill sets, we came together before the program and applied as one team. Of 24 startups, we won the accelerator.
What's Candelytics?
It's a software solution that allows operators to rapidly analyze and translate 3D scans into actionable insights. Data can be very complex, and if you layer in 3D or spatial data, that data becomes even denser. So our software allows that type of complex data to be filtered and translated into usable insights.
We see a Coast Guard case study on your website. The study focused on using Candelytics' data to track illegal smuggling. Why this defense problem?
We stumbled upon the Coast Guard pain point as part of a customer discovery interview. As part of the accelerator, we were required to do 200-250 customer discovery interviews.
When the Coast Guard boards a suspected smuggling vessel, they're trying to uncover where drugs, weapons, illegal fishing or even victims of human trafficking may be hidden. Right now the Coast Guard is accomplishing this national security task manually with tape measures, pens and paper. This process is inefficient as well as time and labor intensive.
There's $65 billion worth of illegal drugs that flow into North America every year from the maritime domain, but the Coast Guard is only able to stop 9% of it. There's a huge workflow efficiency pain point we believe they can address through technology.
We've demonstrated our prototype at a Coast Guard base by scanning one of their own vessels as if it were a smuggling ship. Then we showed them the model that points out the nooks and crannies where things could be hidden. This summer, we're progressing to operational testing and evaluating a contract with the Coast Guard (the equivalent of software paid proof of concept) where we will apply this technology on a real world suspected smuggling vessel alongside the Coast Guard.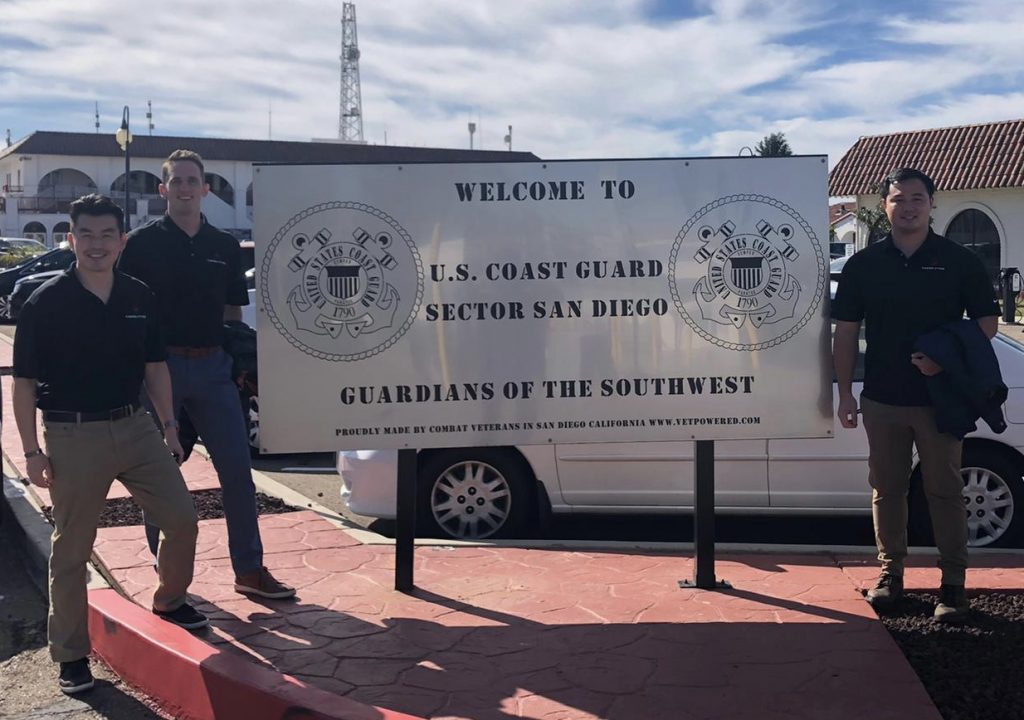 What advantage does your team have to build this startup?
The first is that we're mission driven because of our military, national security, and intelligence background. The second is that we have an intense focus on the operator. Having been in uniform in a deployed role, we leverage this perspective in designing solutions for our customers. We understand what it's like working in a tactical environment where time is of the essence and resonate with the frustration of not having the best tools for critical tasks.
Within the military, you have advanced technology but it's also a huge bureaucracy. And traditionally, bureaucracies are slow to innovate at the speed of startups. In the last few years, there's been that recognition from the Department of Defense. That's why they've tapped groups like us, a small startup, to field technologies that can make an impact in the national security space. The U.S. military is certainly well-versed at developing new technologies in conventional ways, specifically within their own R&D elements and among large prime contractors. But, more and more, the innovation comes from smaller scale companies that can move faster than these bureaucracies.
How does your time in the military translate to your role as a co-founder?
I'll be the first one to tell you that after 10 years in the military, I thought the Army would make me a morning person, and it hasn't!. But in addition to being impact-driven and mission-focused to develop something that can make a real world difference, the military gave me great experience leading teams and being disciplined about planning and execution, especially how we allocate scarce resources to get things done.
Why the name Candelytics?
We wanted our company name to evoke a focus on data analytics, but the word Candela is a scientific term for the measurement of luminous intensity, and our analytics are based on LIDAR which takes measurements based on laser light. It took us a few iterations to come up with a name, but we ended up meshing these two words into something we believe to be both catchy and meaningful.
---
Get more Dorm Room Fund news and updates on Twitter and learn more on our Medium. Want more DRF content? Subscribe to our newsletter. Ready to take your startup to the next level? Apply here to be considered for an investment from Dorm Room Fund. Until next time! 🚀